A successful vacation in the Netherlands with happy kids may not include Amsterdam coffee shops but it can be remarkably comfortable and enjoyable.
When my partner posed the question, "What am I supposed to do in the Netherlands for an entire week?" I bought him a "Travelling Family" travel guide and the plane tickets. As we planned to travel South Holland, we landed in Brussels and spent our first night at the airport Novotel hotel. Normally we probably would have hit the town immediately but traveling with 3 families make everything more complicated and hanging out at the hotel was simply easier. The lobby had an Xbox with the most recent FIFA game, so the children gave the hotel a thumbs-up.
The next two nights we spent in Delft, an enchanting Dutch town. It looks like every tiny Dutch town is beautiful, each with a windmill, a water tower and welcoming residents. The children were not prepared for the fact that city is built around a series of canals and ran towards the water, to the horror of the adults. In tears, my youngest asked me, "Mummy, why can't I jump? is the water higher than my knees?"
We climbed an old flourmill, we boated on the river, and we got detailed explanations of how housing prices used to be determined by how many windows faced the river. We also heard about the hospital whose patients left it even sicker because they drank the canal water. Our little girl fell asleep on the way to the Escher Museum, and I was happy to announce that my sleepy date and I would take a break at the first restaurant saw in the town square. Nothing makes me happier than a glass of rosé in a lively European square. As luck would have it, I parked myself at the terrific Italian restaurant, Solo Vino Gusto, in The Hague's Het Plein Square, which has very convenient parking near by.
We took a taxi to Mini Holland, the safest way for me to ensure that we would be back in time for dinner at the restaurant. Unlike Mini Israel, which contains all the most important buildings and structures in Israel history, Mini Holland contains commercial buildings, such as Mars, with tiny trucks that deliver chocolate to the children. There are soccer stadiums and DJ podiums for the kids to try out and other enjoyable experiences.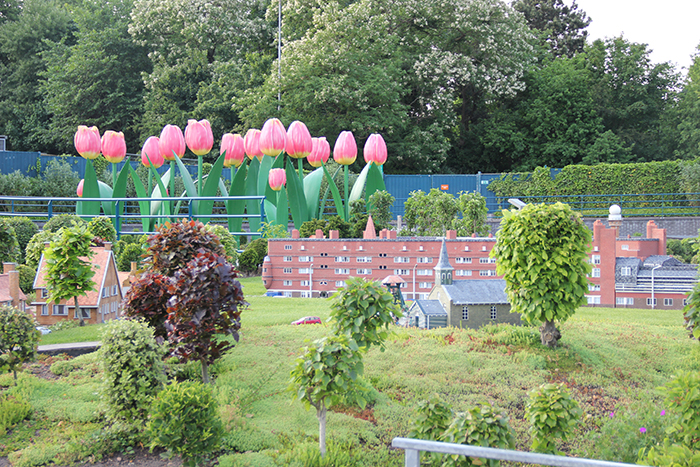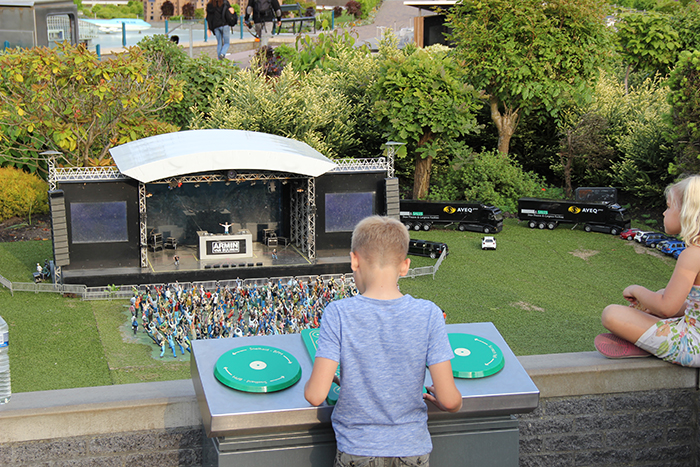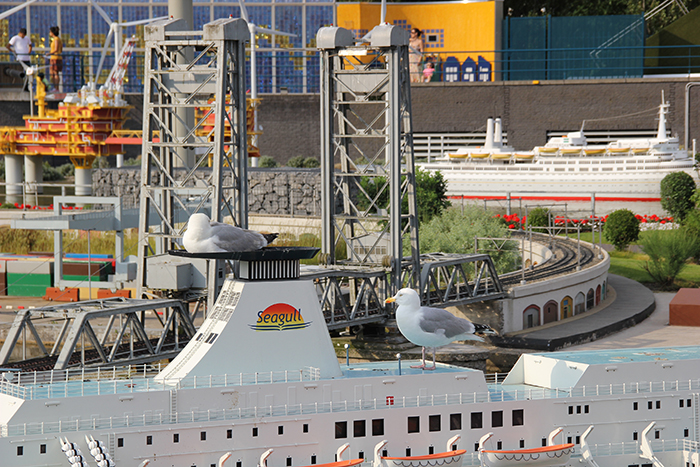 That evening, I discovered that I could see the town church from the triangular window of my charming attic room in the Vermeer Hotel. The room was small but delightful and I would have been willing to move in permanently. The hotel had copies of Vermeer paintings in every room, which is a terrific way to teach children about the artist.
The next day, I bravely insisted on going to the Fun Forest Climbing Park. It was a wonderful way for me to help build my children's relationship with one another, because they would have to help each other through the treetops. I boldly chose the most difficult route, which requires children to be accompanied by an adult, only to find myself facing two zip lines halfway through with terrified children and no way to backtrack or curse at the top of my lungs. I had no choice but to jump and put on a brave face. At least I fooled the kids.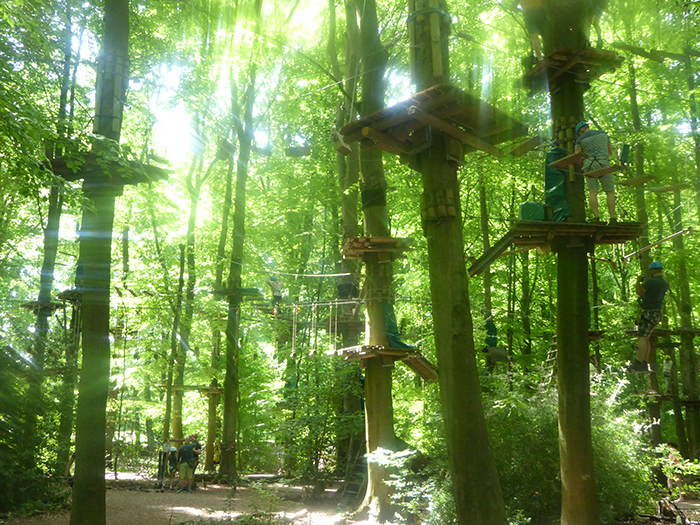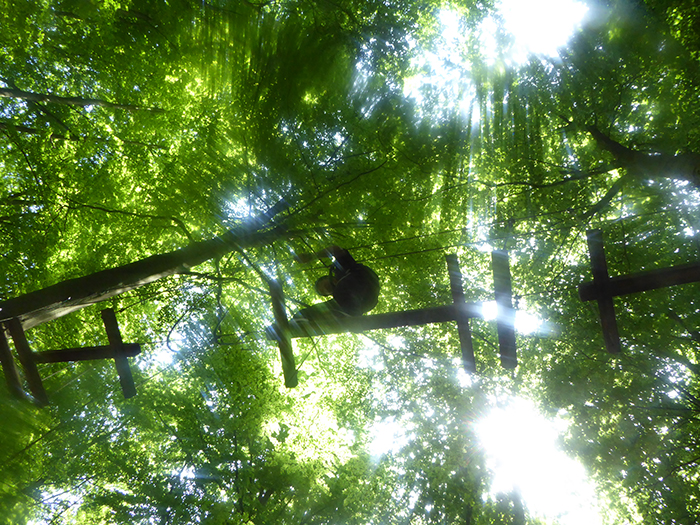 We continued to the Muiderslot Castle, where the locals are welcoming and all speak English. The explanations and maps are less helpful and I will admit that for a while we did not understand anything, but after climbing up the castle turret we discovered that everything worth seeing was on the way down on the other side: mediaeval costumes and games, as well as other surprises for the intrepid tourists on the way down.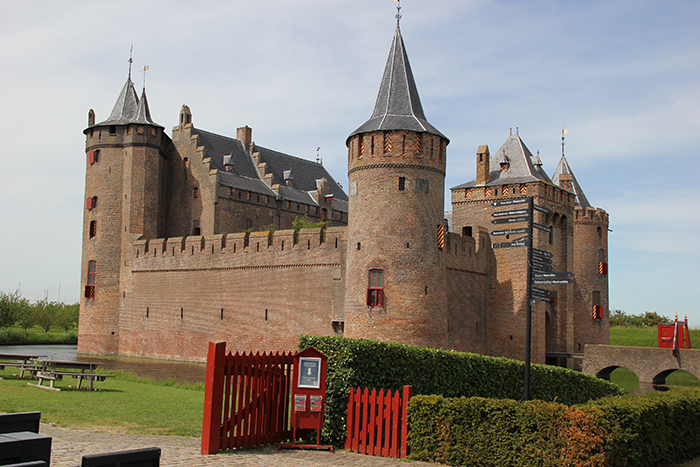 On the third day, we went to the Duinrell amusement and water park. We were hoping to buy tickets just for the water park, but it turns out that this is an option only from 4pm onward, and until then the tickets are good for both parks. The roller coaster was suitable for my 5-year-old girl, who turned out to be entirely fearless and ran me ragged.
Exhausted but exhilarated, we arrived at the Landal resort in the evening, where we had rented a cottage by the river through Noya Holidays in Israel (telephone: 03-6030-934). Their description of the size of the cottage was misleading, but the management rectified every problem with the reservation. A word to the wise: all upgrades and rentals must be paid onsite in cash. Many places in the Netherlands do not accept international credit cards, only local ones, which of course we did not have.
The cottage was perfect and I'm just sorry I didn't wake up in it this morning, too.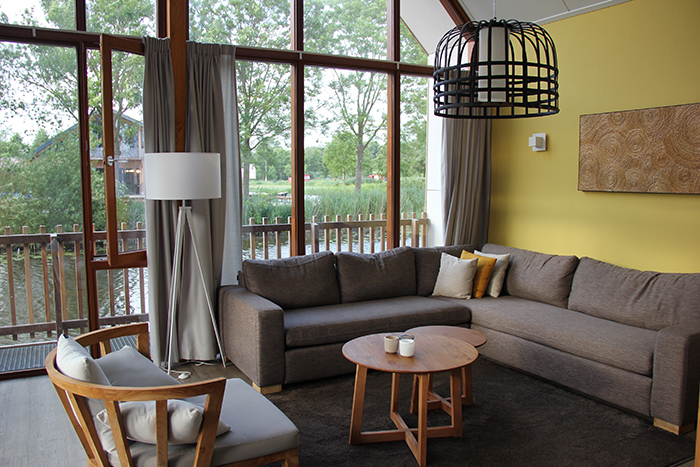 On the fourth day, we visited the Nederland Openlucht Museum, a museum that showcases the best of Dutch heritage, which is somewhat amusing because it displays the same Dutch heritage you can find in every village and town, but even that fact does not detract from its charm. The museum is located on a huge tract of land and the children did not understand what sort of museum has its own train, flourmill, and wooden cows that can be "milked." They also complained like any kids who are dragged to a museum, and we deliberately lost them in an enormous hedge maze. They finally realized that this was not the sort of museum they had expected.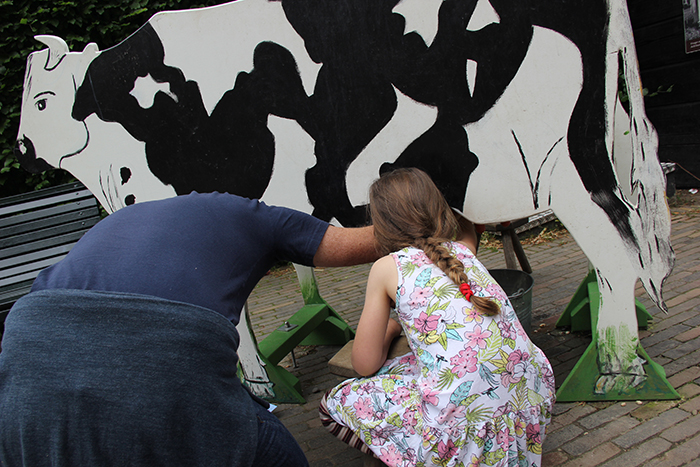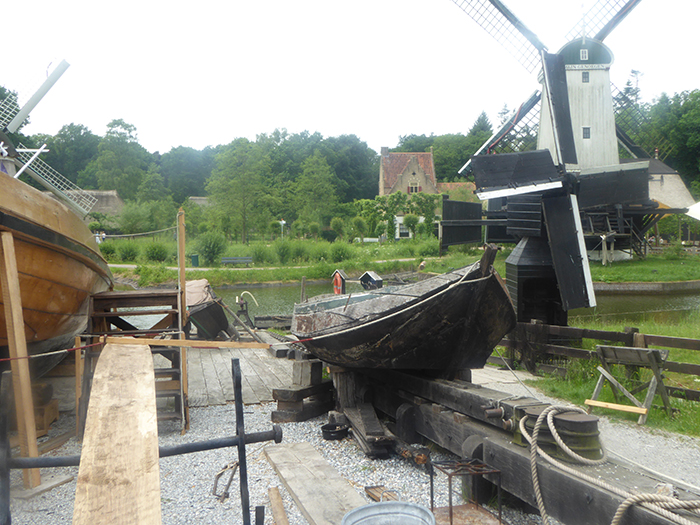 The museum ticket includes entrance to the next-door Burgers Zoo, which contains five different climatic zones: safari, desert, rainforest, ocean and a tropical. Each of the areas is build according to specific climactic and temperature considerations, and it is very spacious for the number of animals it houses. While we were there, my iPhone recorded 16,000 steps and I saw contented animals with cubs, from meerkats to cheetahs.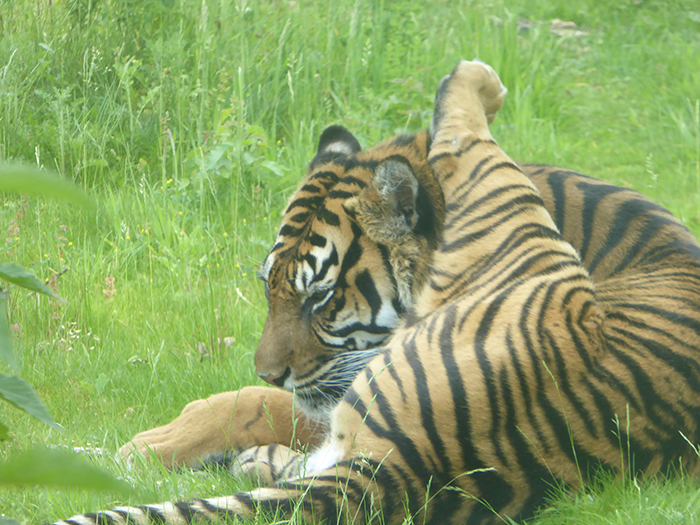 On the fifth day, we went to Efteling Amusement Park. Despite all we had heard about interminable lines, we must have been particularly lucky because we never stood for more than 15 minutes in a line. I guess it pays to visit in May or June. My energetic five-year-old insisted on trying out every ride and attraction for her age group and shrieked with glee on the pirate ship. We rode the pirate ship three times – it was like having a hangover, but without the good time that precedes one. I could barely wobble to the spinning carousel, after which we swore to the kids that once they are 150 cm and do not legally require adult accompaniment, we are never going on another ride again.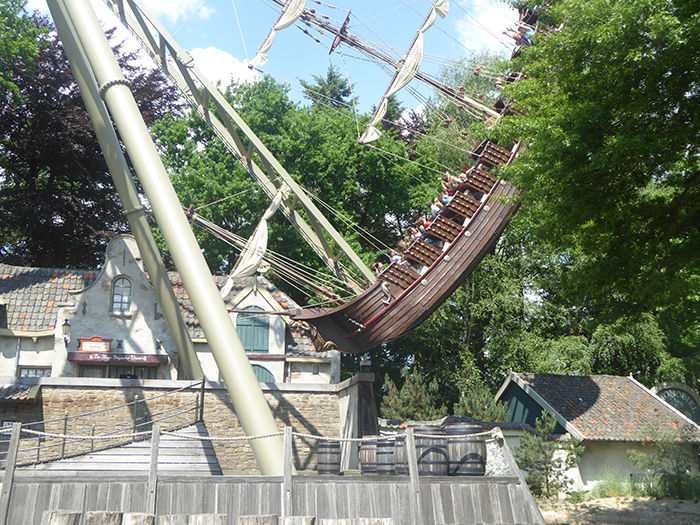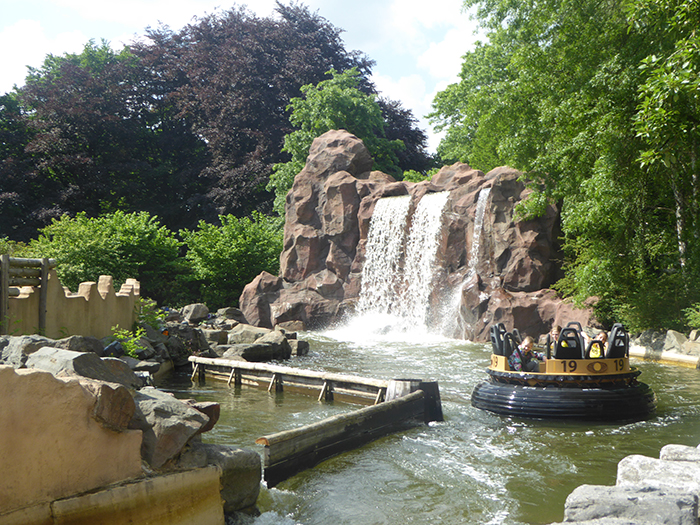 We spent our final day in Utrecht, at the terrific Het Spoorwegmuseum train museum. A small room launches you through time to the very invention of trains and from there you continue a wonderful journey through the technological developments of trains. The museum is the most charming I have ever visited and really illustrates for children the development and use of trains in history. A real train that runs every hour between the museum and the center of Utrecht, or you can park all day for €5, and with the right planning you can have a very relaxing and enjoyable day.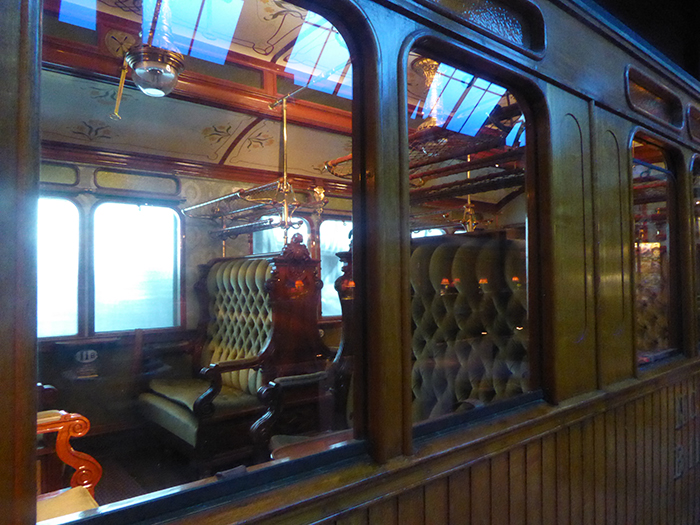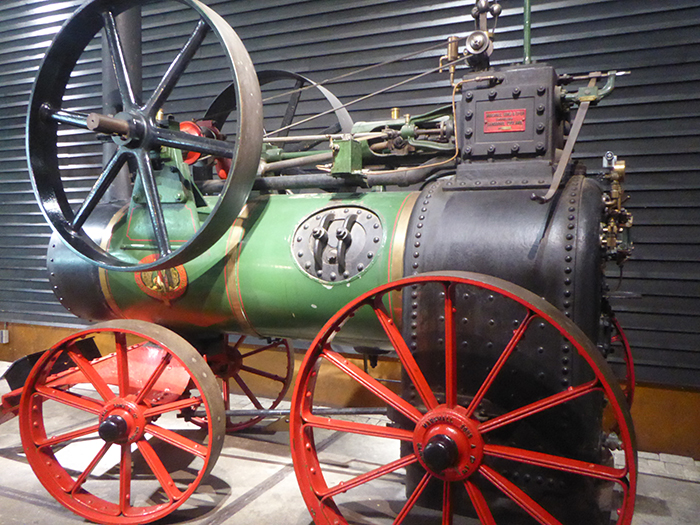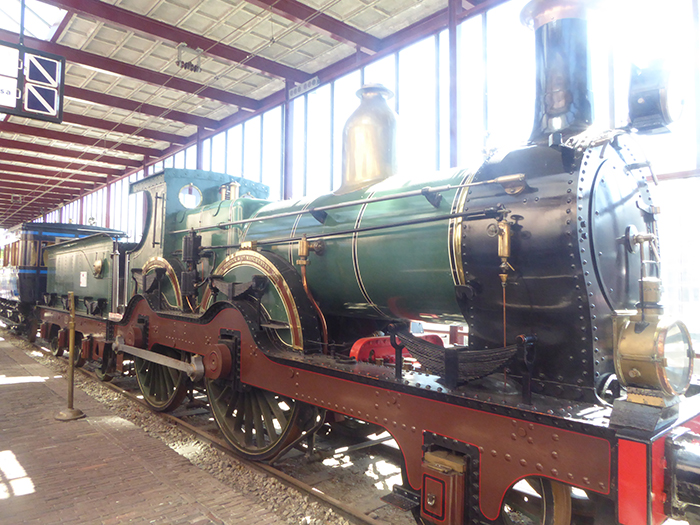 From Het Spoorwegmuseum, we continued to see the beautiful Utrecht city center and continued straight from there to our vacation village, with canoes, motorboats, bicycles and a heated pool. In the evening, we ate in the neighboring village at Anders, a restaurant recommended by Trip Advisor; although the map highlights other villages, this was the place to eat: for only €24, all-you-can-eat tapas (44 options) and simple Italian dishes for the kids. The menu was in Dutch, so we relied on our server to bring whatever she recommended and it was all delicious.
The crucial secret for a trip with different ages and needs – skip things, relax, and split up if needed, especially if you have a child like mine who is only willing to eat pizza. I hope for you to discover like me that your mother-in-law loves the same wine as you do– good luck!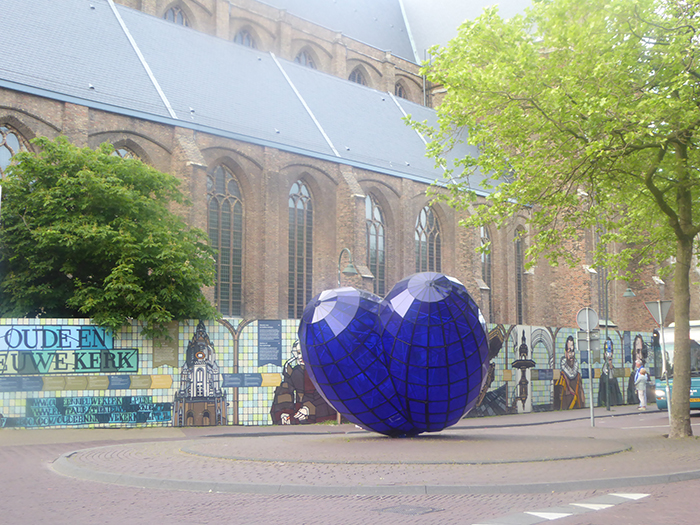 This post is also available in: עברית (Hebrew)