I have to admit, I had my doubts about this weekend getaway. It isn't easy to turn 40 and it's been more than a decade since my partner and I went away together, alone, to any hotel for a vacation of any kind. Surprisingly, it was my partner who suggested a weekend getaway by ourselves. What, during the migratory bird season, when the landscape is again green and the streams are flowing with water, we aren't taking the kids with us? In the end, I'm the one who lost her nerve about leaving the kids behind! So much for a romantic 40th birthday vacation.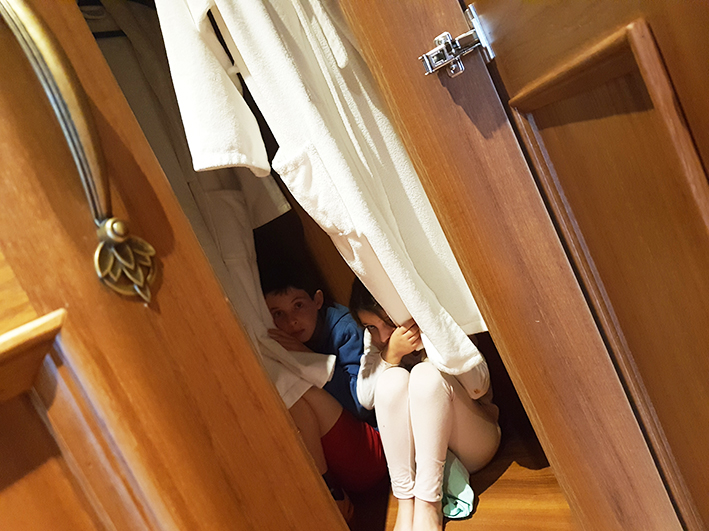 The trip did not start well, with the children fighting over the volume on the iPad, and my partner grumbling because he was missing work. I thought for a moment, I should go to a luxury hotel by myself. Nonetheless, somehow Mommy's birthday inspired everyone to take a deep breath and pray that the celebrations would not last the entire year.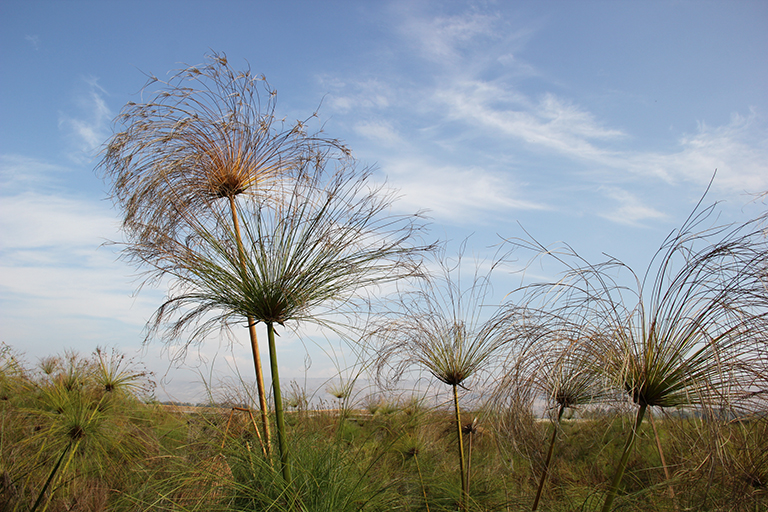 We started in the Hula Nature Reserve. We had been locked in battle the entire week, the Hula Nature Reserve vs. Agamon Hula. In the end, we decided to visit both and on Thursday when it would be less busy, which turned out to be a wise decision. in my opinion, both locations are great, although in our family opinions remain divided between the two options.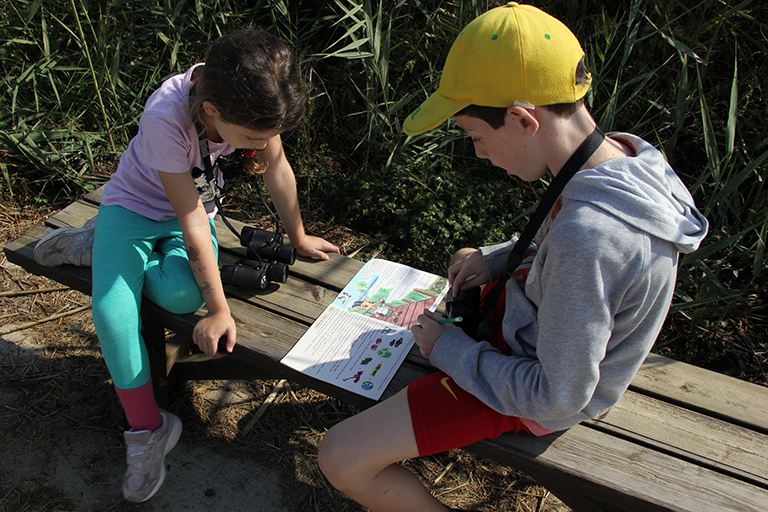 The Hula Nature Reserve is lovely (tickets are 35 NIS for adults and 21 NIS for children). The trail, which runs over a wooden footpath placed on stilts over the water, is pleasant and suitable for everyone. For 10 NIS, you can buy the "Junior Rangers" booklet, which is full of questions about the reserve, with a swearing-in ceremony and an inspector's badge at the end for the energetic new junior rangers. Binoculars can be rented for 12 NIS, a reasonable price (in my opinion) for your young explorers.  Viewing the buffalo and the birds with relative ease during a leisurely walk is definitely worth the investment. A charming 3D film describes the life of the animals found in the reserve to the children. The two additional rooms filled with explanations of the fauna in the Hula Nature Reserve fascinated them. The highlight was an interactive trivia quiz on everything we learned, which, in a competitive family like mine, was all it took to spark everyone's participation.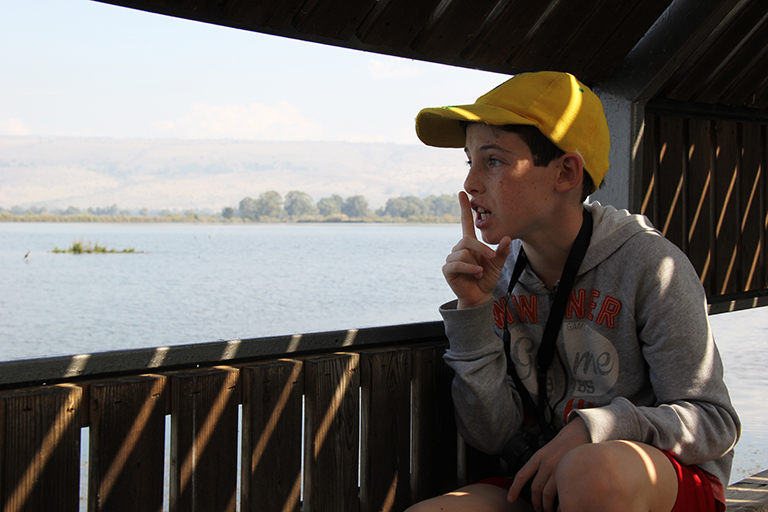 The tumult of the birds on the Hula Lake (Agamon Hula) is a romantic and fascinating way to spend the day. Assuming you left the kids at home, of course. Entrance to the Hula Lake is free, but it does cost to rent a golf cart or bicycles. (The options for a family of four were around 200 NIS.) The children wanted a golf cart and by this point, in the day we were too tired to peddle ourselves around.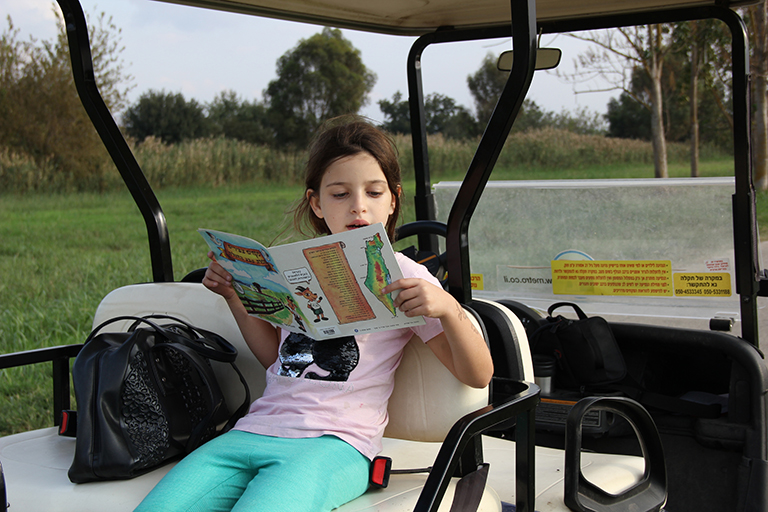 Some of us pretended to be experienced and professional nature photographers.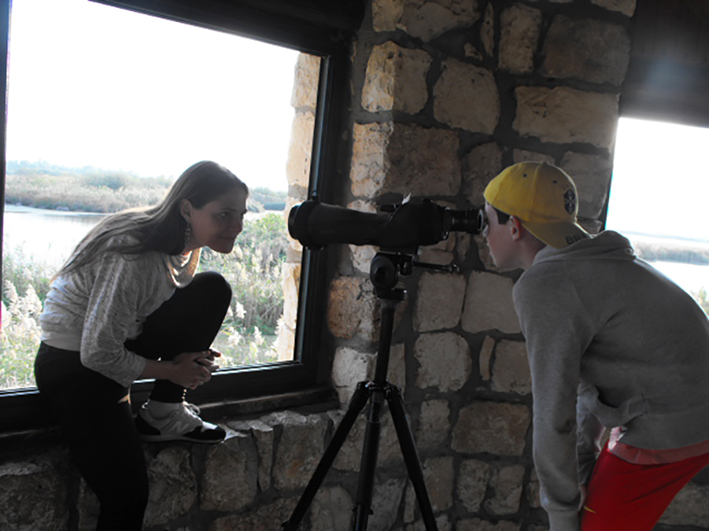 I mostly photographed my favorite animals, the ones that I birthed, of course.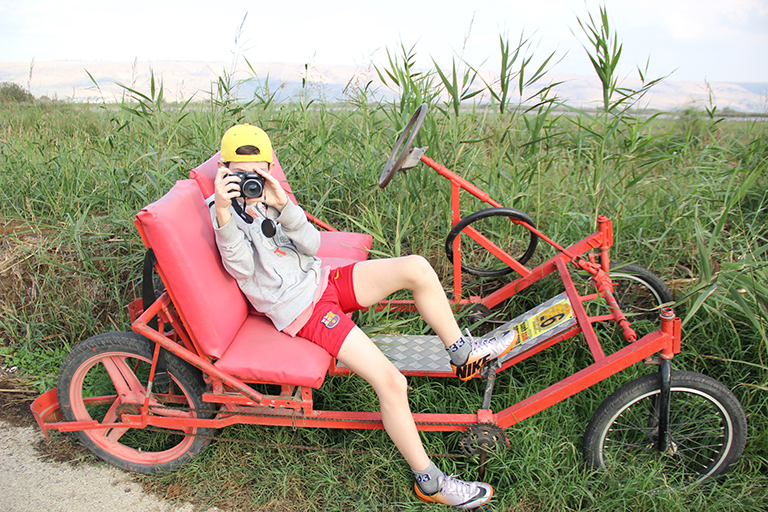 And some of us were busy disturbing anything around us that seemed calm and relaxed.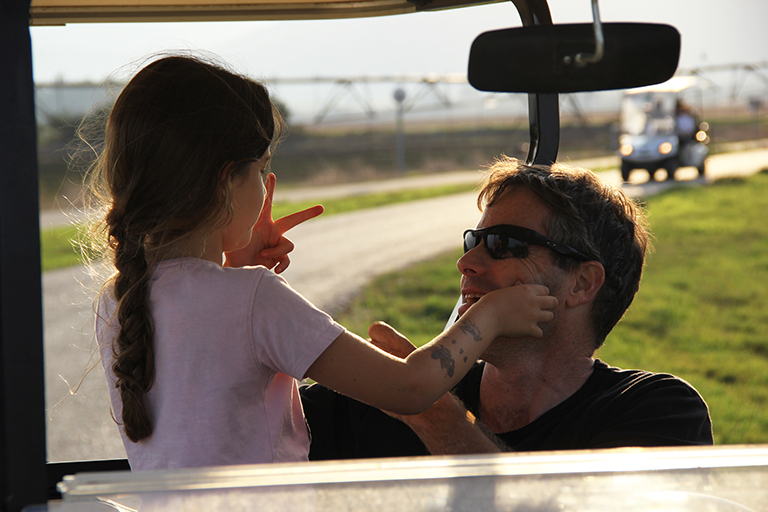 The best part of turning 40 is that we did not walk until the point of exhaustion. Instead, we arrived at the hotel in the late afternoon and had time to rest and freshen up before dinner. Turning 40 is great! I hope this marks the start of a new era: we are so used to falling into bed in some room at the end of a day of arduous hikes, trying to pack in as much as possible, that I forgot I could make a decadent hotel the focus of the vacation.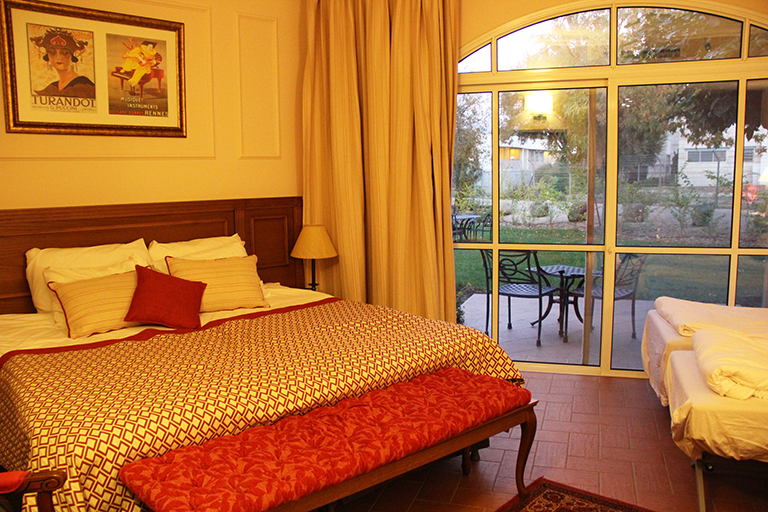 It turns out that about five years ago, the Pastoral Hotel in Kfar Blum opened a new boutique wing, with 45 large and well-appointed rooms. This is a real start-up: the hotel looks like a kibbutz from the outside, but inside it is a luxury hotel. Why have I never realized that this is what real life should be like?!
While I was dreaming of a lush bath, my darling children stole both bathrobes and flip-flops and informed me that in keeping with the sumptuous room, they were now princes and princesses.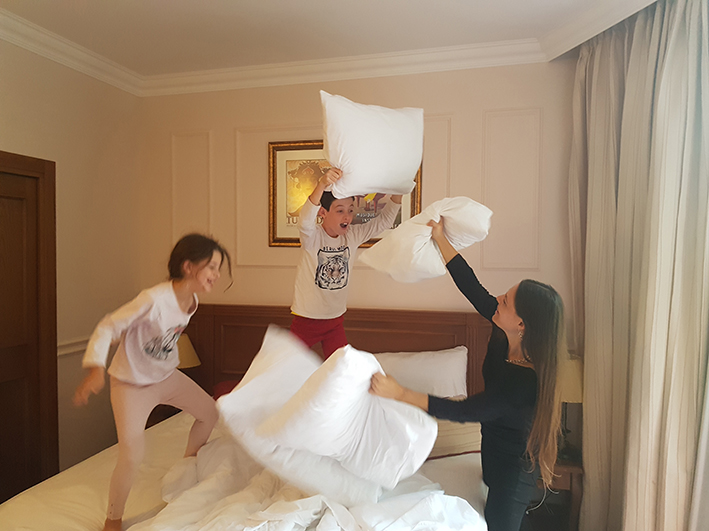 My son didn't want to go to the dining room for dinner because he was certain he wouldn't like the food. The chef who made-to-order pizzas, while we waited, proved him wrong. I cautiously requested a gluten-free roll and was sure they would bring me one warmed in a plastic wrapper, like most restaurants. I was shocked when, 15 minutes later, they brought me a variety of homemade gluten-free rolls. I tried to photograph the selection but I could barely fit them all into the frame and my little girl refused to let me take a picture that didn't include her.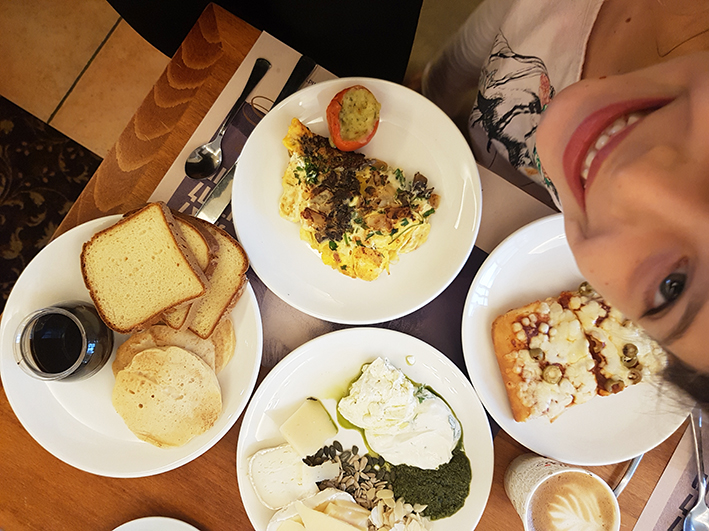 The next day was a little rainy and misty so we decided to spend it at the Canada Centre. When it comes to keeping children entertained, anything goes. Bowling, 3D movies, snooker, billiards, iJump, ice-skating and a heated pool and hot tub can definitely fill the entire day and keep everyone happy.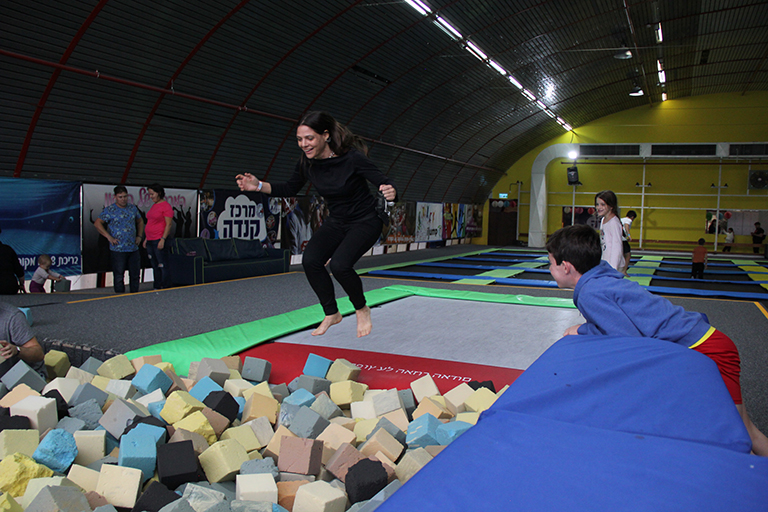 For me, the highlight at the Canada Centre was ice skating. I grew up in Bat Yam when the very first ice skating rink in Israel was built. From grades 6 to 8, nearly every day after school I went with my friends to the skating rink for figure skating and hockey. I was always the worst at both, but that didn't stop them from trying to help me day after day. My intrepid little one agreed to do four rounds with me before she let go of the railing. We would have stayed longer but she really wanted to get to the pool. Our only mistake was to try the hot tub after our first dip in the pool and we just stayed there.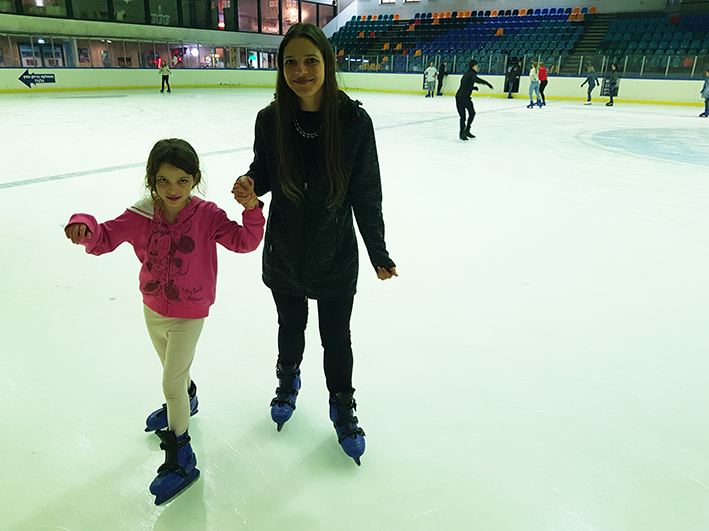 On our way back to the hotel we warned the children that Mommy and Daddy were going to the spa without them. My little one tried crying "You love your spa more than you love me." I tried to reason with her that she had been on a trip with me for three days and I was only going to the spa for an hour, but children don't get logic, so in the end I told her, "You're right" and figured that I was just adding to the list of things for her to complain about to a psychologist in the future.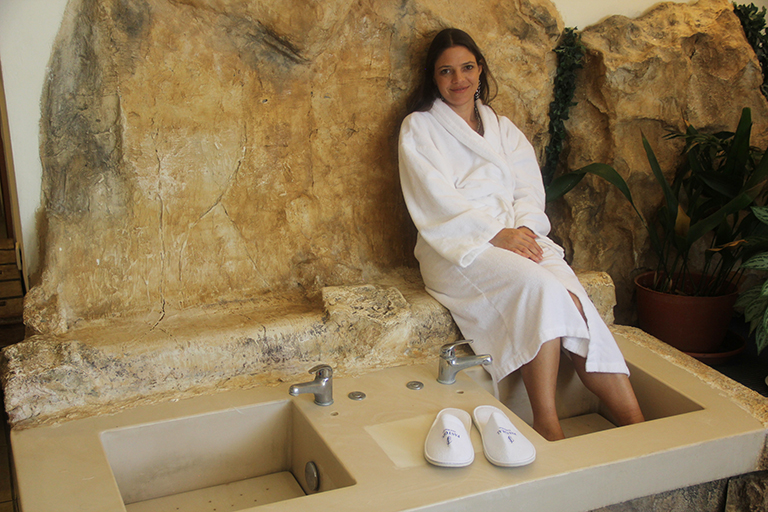 The spa facilities are terrific and I recommend not leaving them to the last minute as we did. We booked the last treatment before closing, at 5 pm. There is only one couple's room in the spa, so if you want to together be sure to book in advance. I focused on the massage, since I figured that romance wasn't really a part of this vacation.
The children, surprisingly, were resourceful and found a clown show and new friends in the lobby after we disappeared, and continued to jump and dance even after we resurfaced. Sometimes, when I'm embarrassed to dance alone, I remind myself that lots of people envy the people who have the guts to get up and dance. Anyhow, when my little girl asks me to dance with her, I don't really have a choice.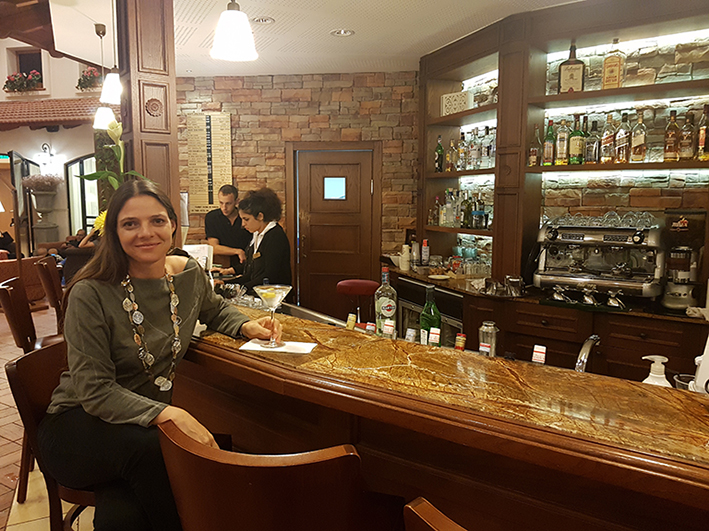 On the way home, the children said that this vacation in Israel was better than going overseas. Even though I try not to care about having a title, apparently I'm still "Super Mom."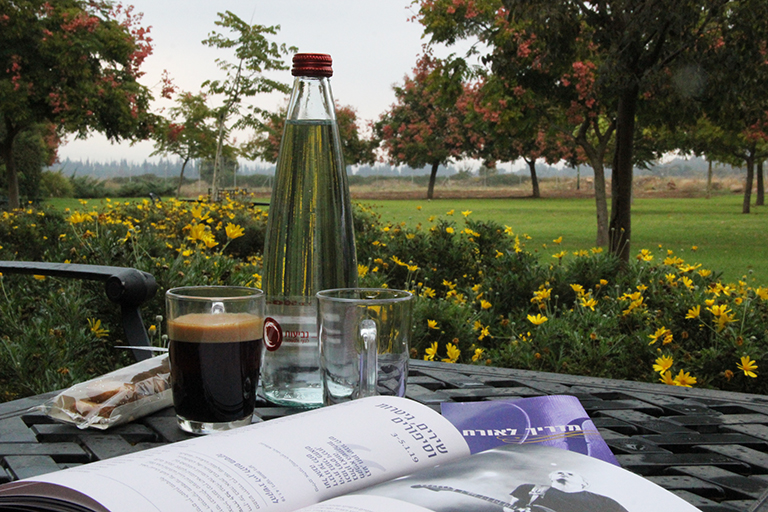 This post is also available in: עברית (Hebrew)