I was privileged to be invited to exhibit at the Fashion and Jewels pavilion of Homi Milano, the annual design exhibition held in the Milan Convention Center. The real week to do business is during the Ready-to-Wear fashion week that every fashion capital holds about a month prior to its Fashion Week. The Ready-to-Wear week includes every aspect of design, from indoor and outdoor home fashion to clothing to fashion accessories of all kinds that a buyer could possibly seek for. It was my first time in Milan and I didn't know what to expect. On the one hand, all my design colleagues end up in Milan at some point during the year, whether for the Biennale or Design Week or Fashion Week. On the other hand, no one had any useful information to share about the city aside from the specific event they usually attended.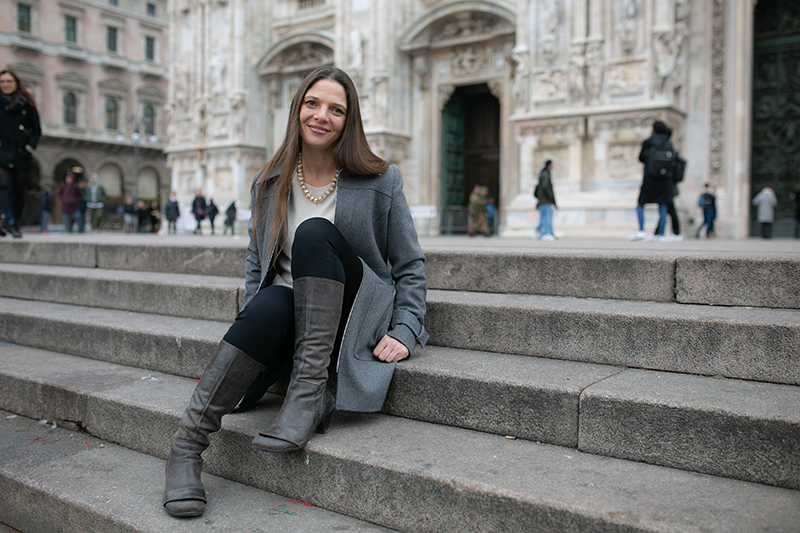 I spent the day before and after the exhibition exploring the city, because who knows when I'll be back there! If it were up to me, visiting Milan twice a year, during the sales, sounds just perfect.
At the Galleria Vittorio Emanuele II, I was sure I wouldn't even be able to afford a button, based on what I had read online. It turns out that the last week of January has huge discounts of 50% -70%, even in really marvelous stores. After enjoying the gorgeous window displays of the biggest designer names, I spent serious cash in Massimo Dutti; by serious, I mean 15 euro on a top and 30 euro on a dress.
Marchesi 1824 is a must-visit patisserie, not only for its delicious sweets and coffee but also to take photos with the backdrop of its large terrace.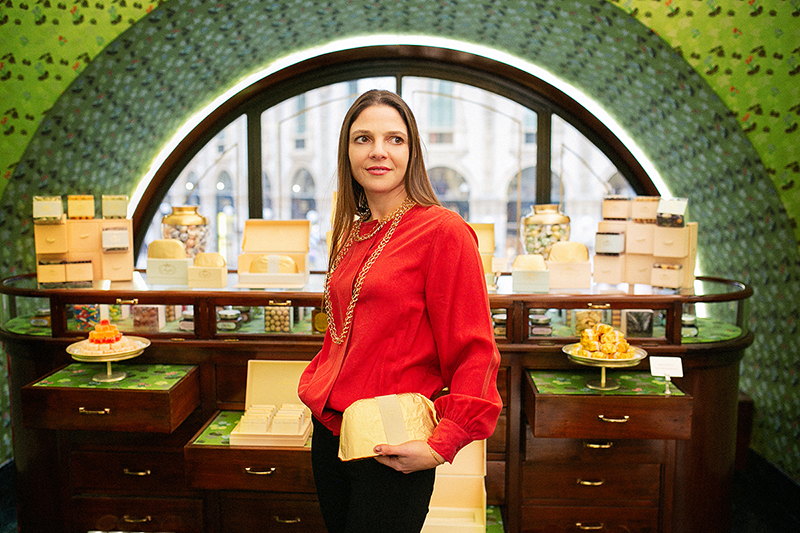 The charming courtyard of the Duomo and its adjoining terraces is a beautiful place for a break and a drink at the Terraza Eprol or a glass of wine at the Terraza Doumo, whichever you prefer.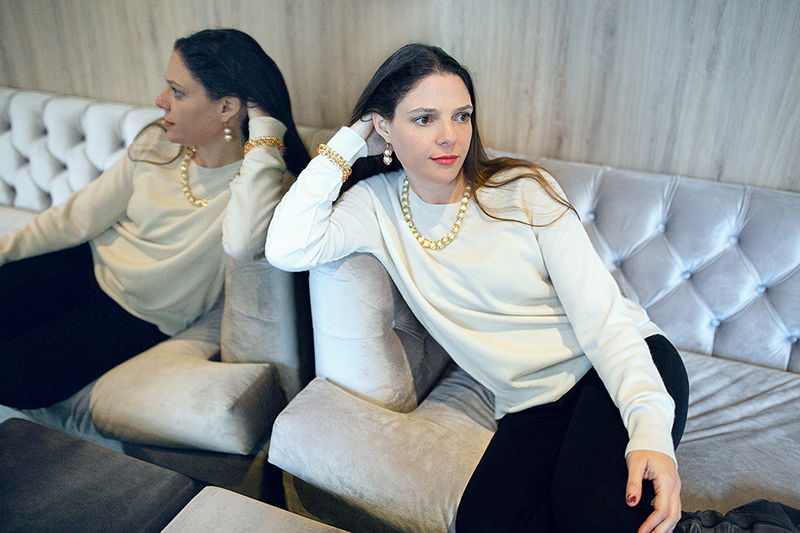 A 10-minute walk will bring you to the castle, and another 10 minutes at a brisk pace will bring you to the Porta Sempione. I don't really have a reason to recommend a brisk pace when you are on holiday.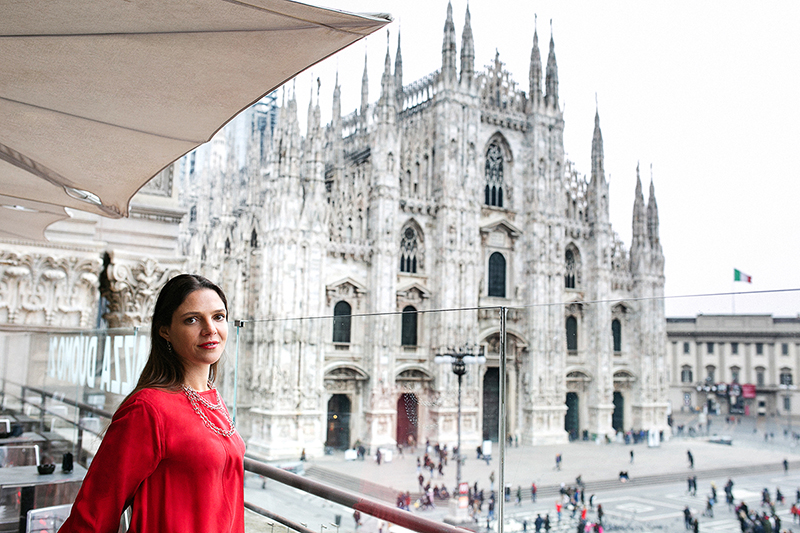 Behind the Porta Sempione, using Google Maps and a bit more of help from passersby is Mood, which offers second-hand designer clothing in the basement with big names such as Chanel and Karl Lagerfeld – a charming shop filled with top brands you could only dream of.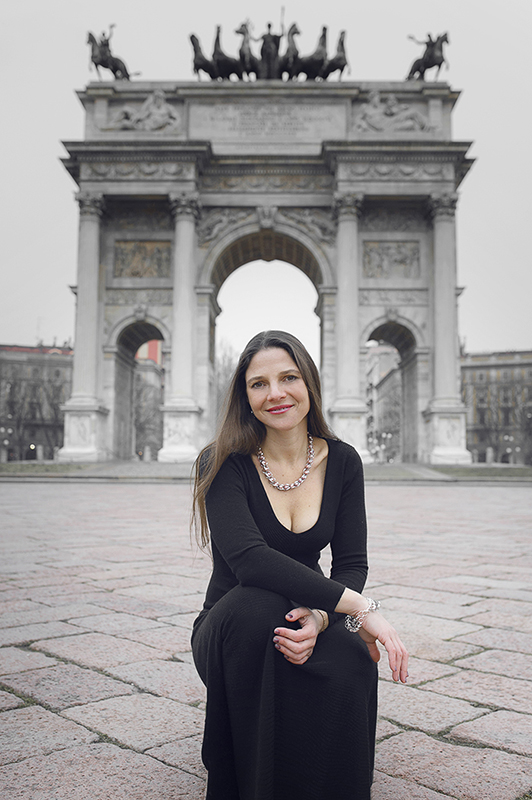 The Brera neighborhood is magical, full of narrow alleys alive with designer shops and restaurants. My favorite was Cinc – no illustrated menu or tourists, but at least one gluten-free dish on offer, so I dined there almost every evening.
On the border between the main drag, Via Mercato, and the Brera alleyways were a number of designer stores (also with fantastic finds during sales). There are a number of Italian shoe stores worth checking out that also had great deals during sale season.
Homi Milano itself was enormous and impressive. Surprisingly, unlike the neighboring Paris exhibitions, most of the visitors seemed to be Italian, likewise the local designers. English was a luxury and it's a good thing I am Spanish, otherwise, I would have truly been lost linguistically.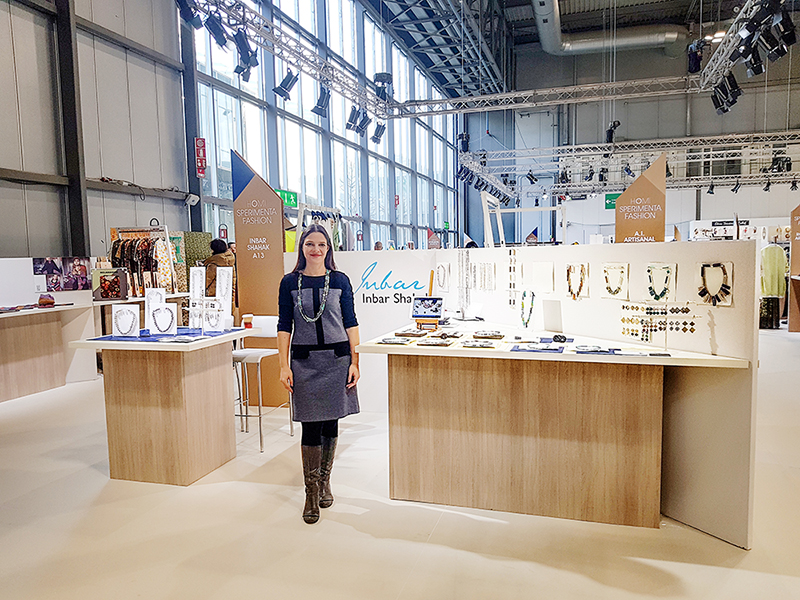 My last free day involved calming my feelings of maternal guilt, and luckily, I assumed the airline would charge me if I tried to get an earlier flight, otherwise, I might have tried to get home earlier. Everyone said to me, "What will you do for another day in Milan, it's such a small city." Only my best friend, with whom I went to the Shenkar College of Art and Design told me, "Go to all the designer stores, feel the fabrics and remember why we studied fashion in the first place." I did not have the time to caress the different fabrics, even though I fully intended to.
The line at the entrance to the Duomo looked like it was at least two hours long. On the right of the entrance is a hall and a ticket booth and another endless queue, but inside on the right is a self-service ticket machine that is much quicker. An entrance ticket can be used for up to 3 days from the time of purchase. The balcony entrance was completely open, so my grand plan of not wasting time in lines worked out and I up I went to the spectacular balcony.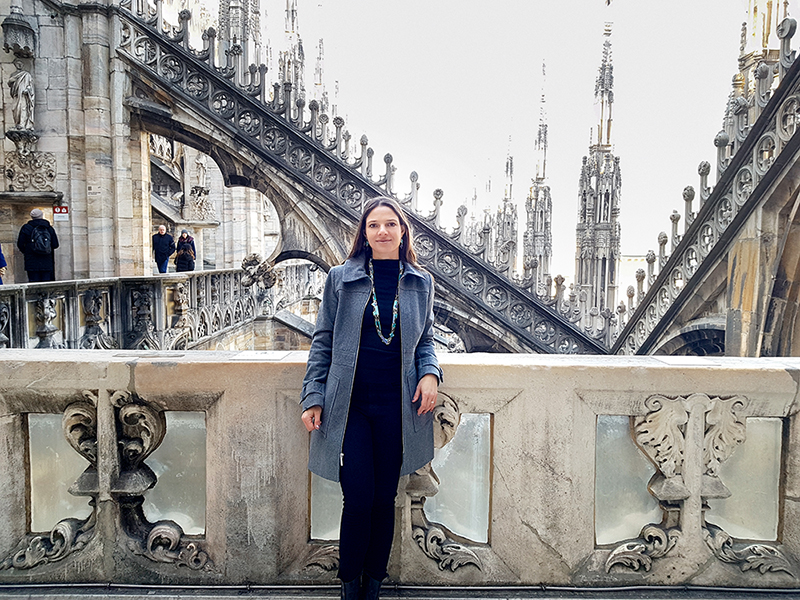 I spent my last half day before my flight home at the Fondatione Prada, without a doubt one of the most spectacular contemporary art museums I have seen: a golden building, with a captivating collection of treasures and artwork.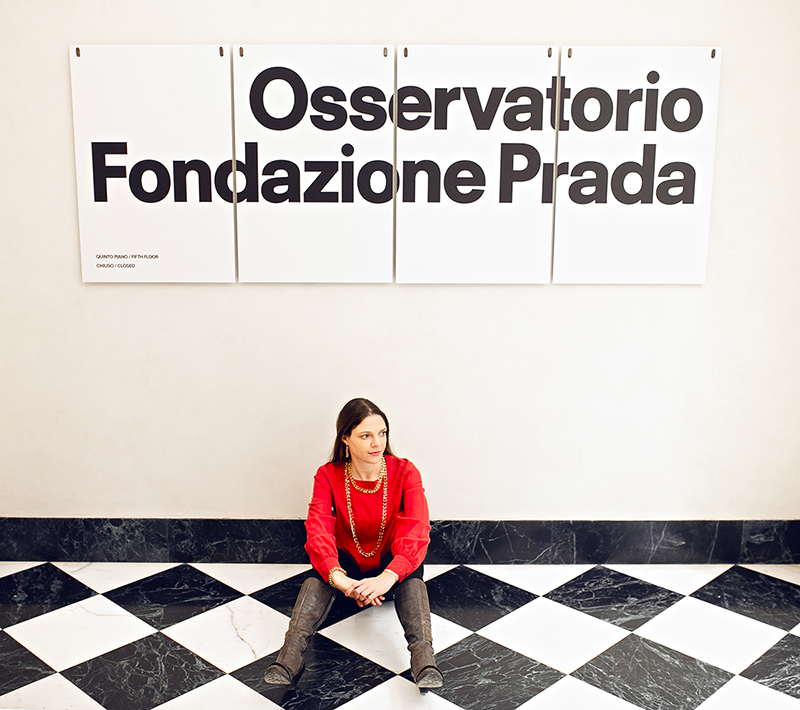 The ten-story white building gave me a discount on the entrance fee because the elevator wasn't working, which was tough but the visit was worth every minute.
The Jake and Dinos Chapman exhibition was the most moving and challenging Holocaust memorial I have ever seen, where the miniature figures are revealed to you gradually in all their glory and ugliness.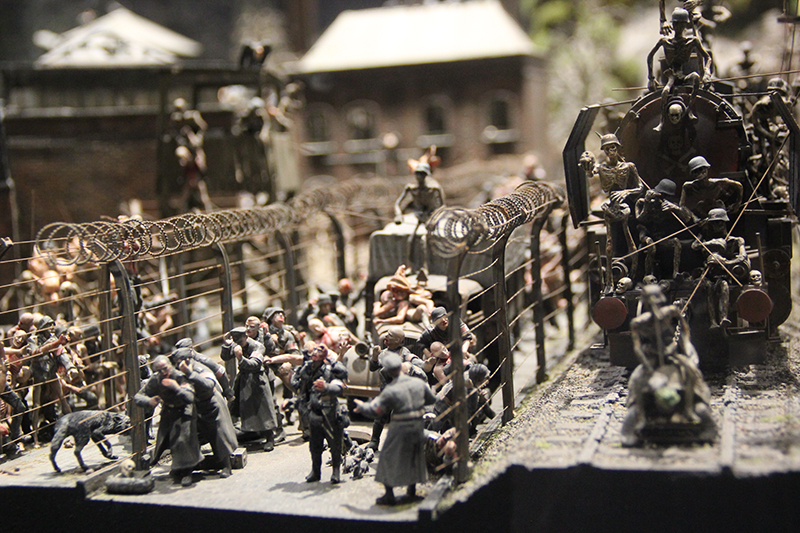 I was moved by the ability of Louise Bourgeois to convey emotions through displays of clothing in a space.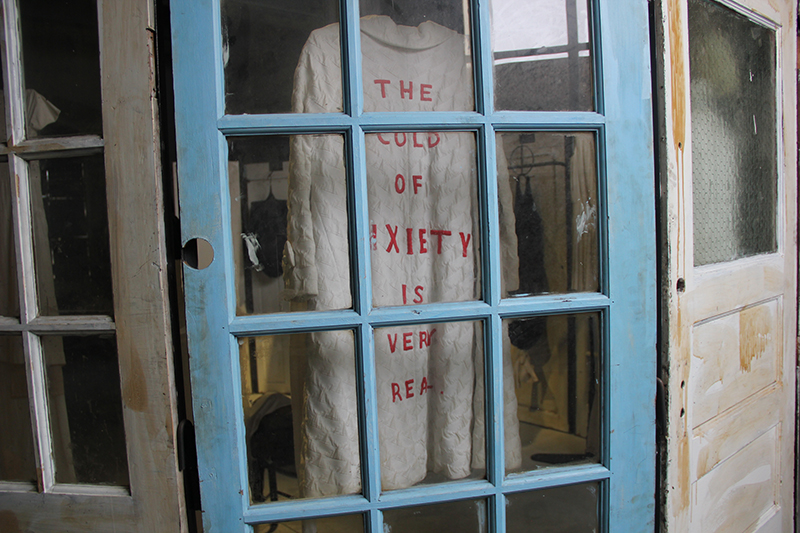 My improvised tour continued on to 10 Corso Como, recommended by friends from Homi Milano. Without question, this place is a temple to design, with the names I long to find in my closet and magical spaces where every detail is a world of inspiration.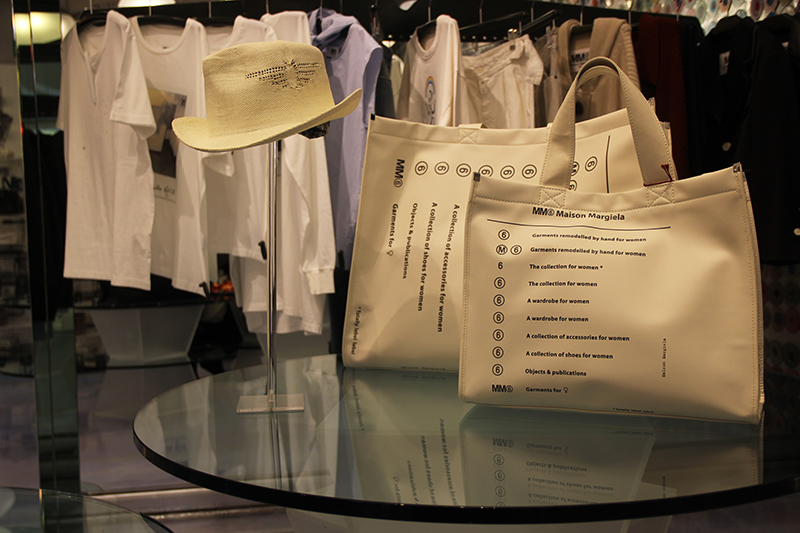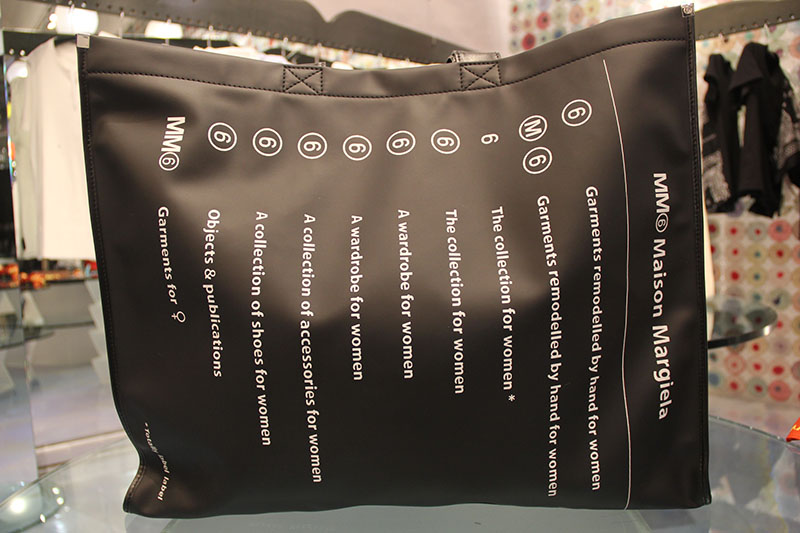 On the top floor is the Fondatione Sozzani Concept Store and Gallery. Be sure to take your time and your wallet because you will want to buy everything and pack it directly into a shipment home.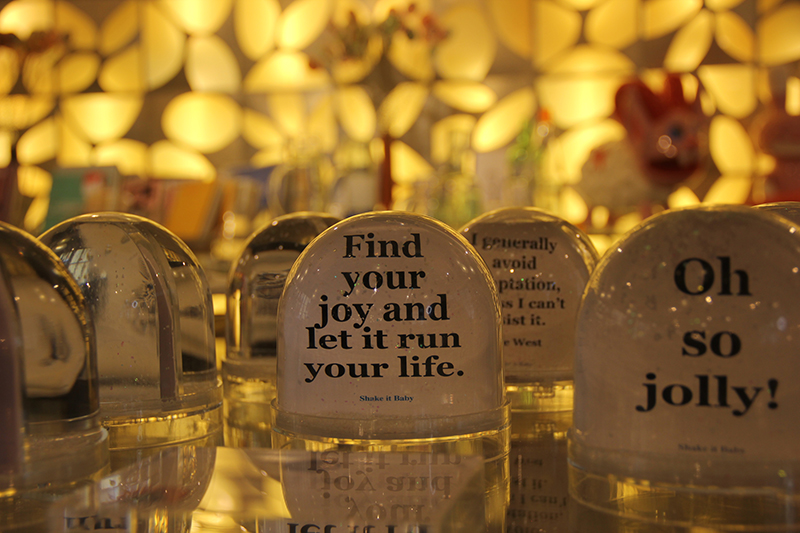 The restaurant café on the ground floor was surprising in the heart of the city, filled with the chirping of birds and pigeons scattered around the tables at the entrance.
The walk along the Corso Como back to the castle took about fifteen minutes. If you asked the locals how to walk back, they'll point you to the nearest metro station: walking never occurs to them. As a tourist for one day, I didn't want to waste even one minute underground.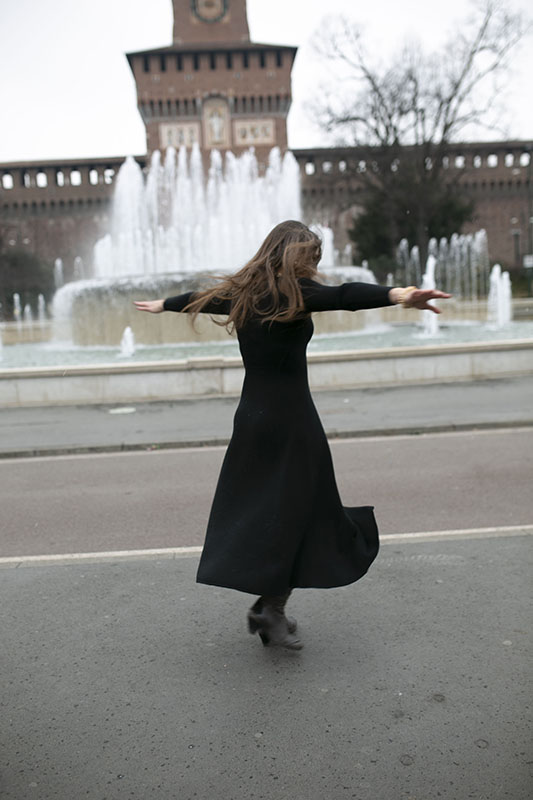 This post is also available in: עברית (Hebrew)