I was not sure what to wear for a fashion tour of Bnei Brak. On the one hand, the organizers probably knew that I'm not at all religious. On the other hand, when I was a girl I once cut through a religious school to shorten my walk home and the boys shouted at me that they could see my knees.
I decided to wear my favorite COS skirt and a tailored top from Sigal Dekel. I didn't cover my elbows because I couldn't believe that anyone would be wearing long sleeves in the extreme heat of August. Now I believe it!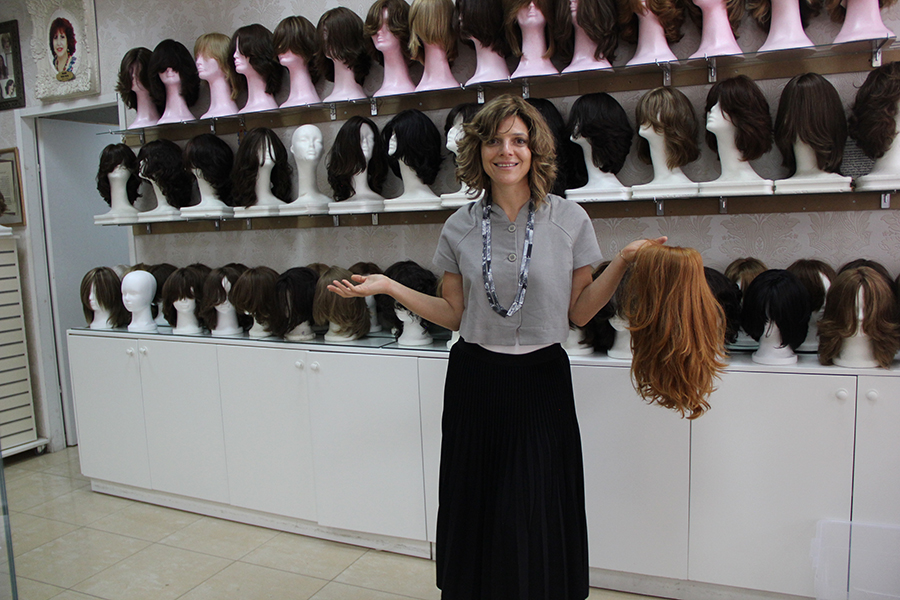 Dina Abramson, the owner of the HaMumlatzim website, led the tour. She says that she got the idea for a Bnei Brak fashion tour from when she lived over the Green Line and sent her children to school in an armored personnel carrier. She never thought there was anything strange about it until foreign journalists arrived and gleefully photographed the children in an APV.
We started with Tzipi Banai's wig salon. Tzipi told us that when she opened the salon 47 years ago she only had three competitors. Today she has 600. Her shop is filled with shelves displaying different hairstyles making it easy to instantly switch your style without any need for coloring or ruining your hair, and no commitment to an emotional relationship with a hair stylist.
Tzipi told us that handmade wigs used to be heavy. Today, although they are still handmade, the wigs are much lighter and some are almost indistinguishable from real hair. Tzipi herself travels to Europe to buy the natural and soft hair and then takes it to China to be handcrafted into wigs.
"Mizrachistit" is the nickname for women of the National Religious stream of Judaism who see a wig as a hair covering. Women from the Chabad-Lubavitch stream of Judaism are forbidden from covering their hair with a scarf, and since the Lubavitcher Rebbe insisted that women should be beautiful, Lubavitch women invest considerable financial resources in their wigs. Women are forbidden from showing the smallest amount of hair, but some push the limits by showing a small strand of hair.
Wigs made from real hair cost between $1200 and $3500 and the wig seller provides the additional service of a sympathetic ear for women's dilemmas and woes. Each wig lasts about 5-7 years. The mesh cap under the wig is measured to fit and the hair is stitched on it. These wigs are works of art. As demand has grown, stitching the hair to the mesh cap has been outsourced to China where the cost of labor is significantly lower.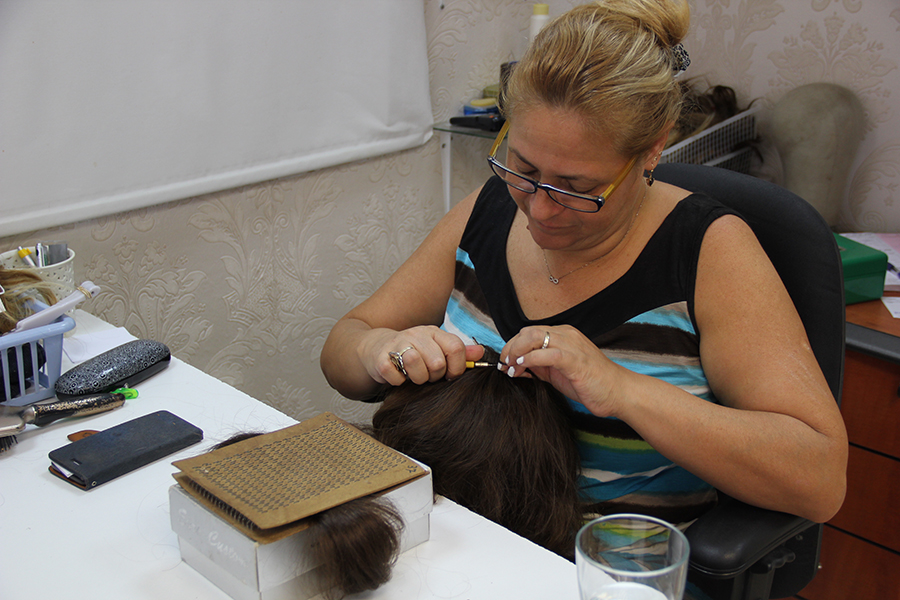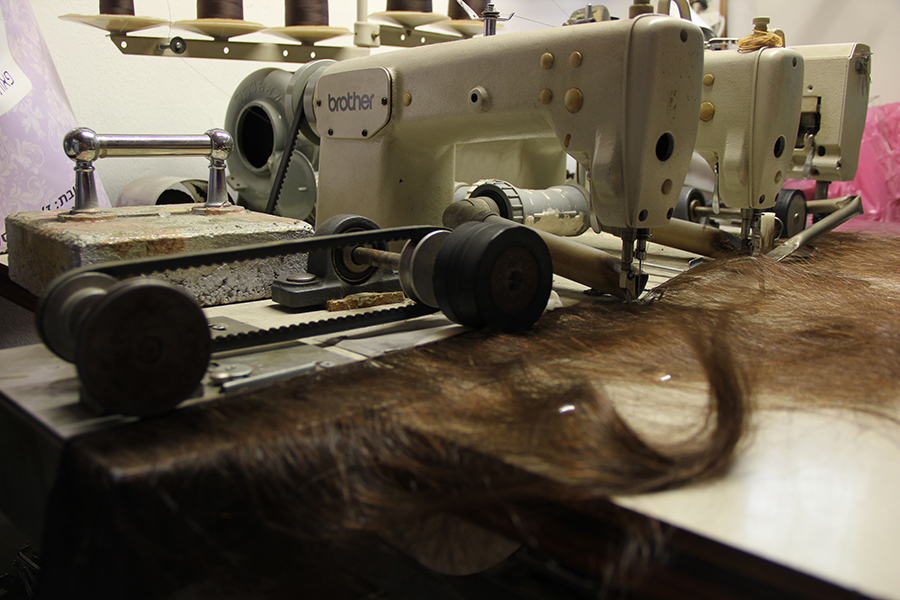 Dowries have become extremely competitive and parents are expected to purchase a wig for the bride. People take out loans to buy a high quality and impressive wig. In fact, the day after the engagement is announced the wig is the first thing to be ordered and is extremely important.
The wigs are tagged to prevent theft because theft also exists in a world where a woman's value is based on the wig. Tzipi also donates wigs to Ezer MiTziyon for cancer patients and children each gets one free. What a marvelous act of charity, but I hope none of us will ever need one!
I'll admit that I was thrilled to be allowed to try on all those different wigs! I felt unsophisticated in contrast to the woman I sat beside, a gorgeous religious fashion blogger nicknamed the "Duchess." Her online presence epitomizes the glamorous life of the religious world. Sitting there with her long hair and colorful scarf, she looked like one of the last remaining aristocrats. Sitting next to hear I felt like Pippi Longstockings, the gawky heroine of children's literature.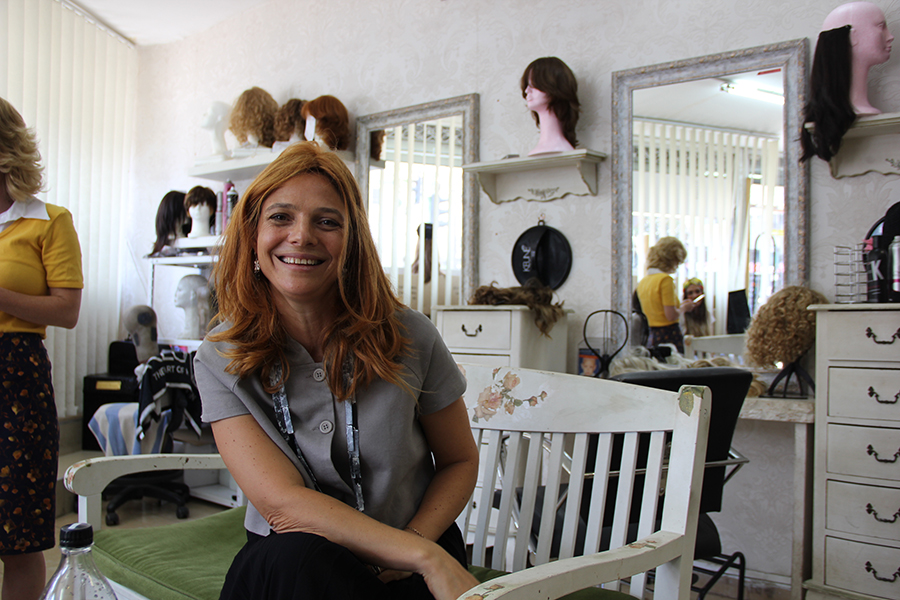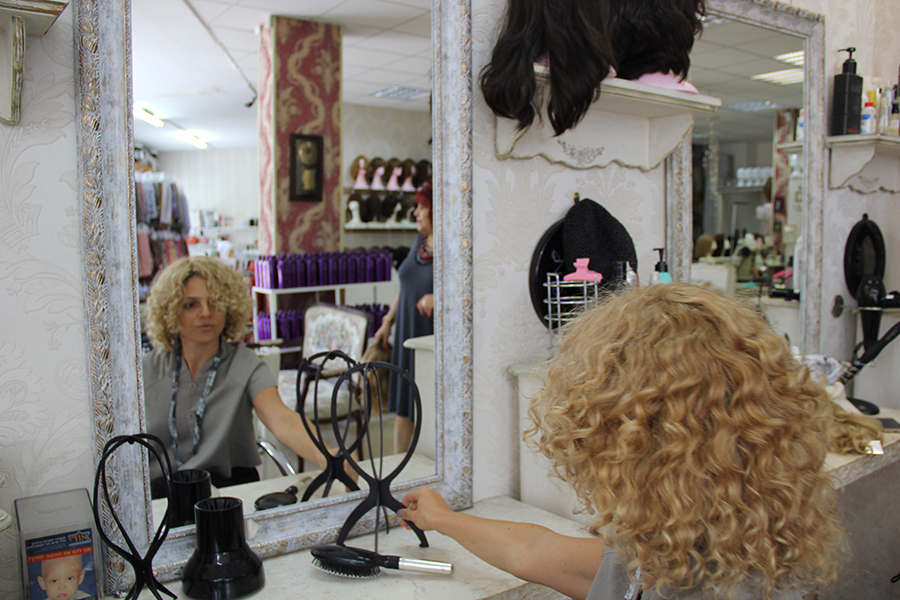 From there we continued to "Mekimi", located at 77 Rabbi Akiva St, the fashion district of Bnei Brak. I really love long skirts, which I think is very comfortable and cool on hot summer nights but are also perfect for sitting how you want with no concern about what you are showing. The truth is that in Israel it is hard to find a long skirt that does not immediately brand you as ultra-Orthodox the moment your skirt falls below your knees.
It turns out that there are many local designers on Rabbi Akiva St., unknown outside of the religious world, who have opened their own stores and are selling merchandise manufactured in Israel. Since they operate in the ultra-Orthodox sector, they cannot mark up their prices like in the secular market. The average ultra-Orthodox family has 10 children so cannot afford the high mainstream prices.
As for my long COS skirt (which I sent my husband to buy at a store in Amsterdam under threats that price was no issue), the head designer at Mekimi laughed and told me that I was wearing last season's styles.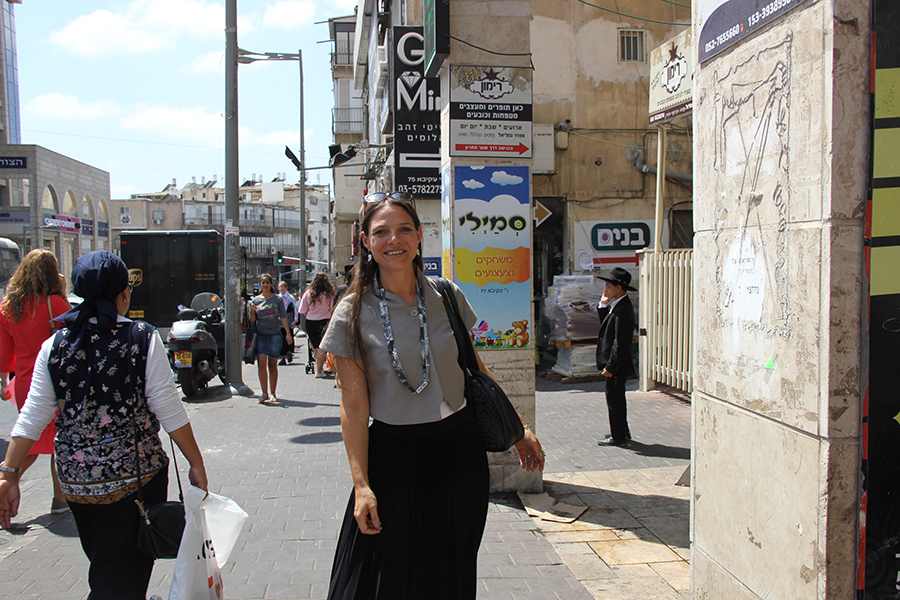 The background music in the store was playing a song by the secular pop stars Static and Ben El, but Shiffi Haritan, editor of the women's forum on the ultra-Orthodox website Hadrei Haredim pointed out that some of the lyrics had been changed to "Behold the hills of Jerusalem" in the ultra-Orthodox version.
Shiffi also pointed out that ultra-Orthodox women are interested in exactly the same things as secular women, but that the wording of texts are changed, e.g., instead of "breast enlargement" there is "cosmetic surgery." Stylistic and image changes are made so posts will meet the website and ultra-Orthodox public's standards and mores. On the website's landing page there is a warning that it contains images of women.
The end of the summer fashion season is perfect for secular consumers, with lots of lightweight long-sleeved shirts that are perfect for the upcoming winter.
During the tour, we also had time for a personal interview with Sol Schvarcz, an Instagram opinion maker in the ultra-Orthodox community, who shows how the ultra-Orthodox have fun and enjoy themselves with the hashtag #Shabbat. She told us that she is a bit unusual in her community because she is happy to be photographed with her husband and adds that when she was just starting out, without his support and willingness for her to work she would not have succeeded with her business and her brand.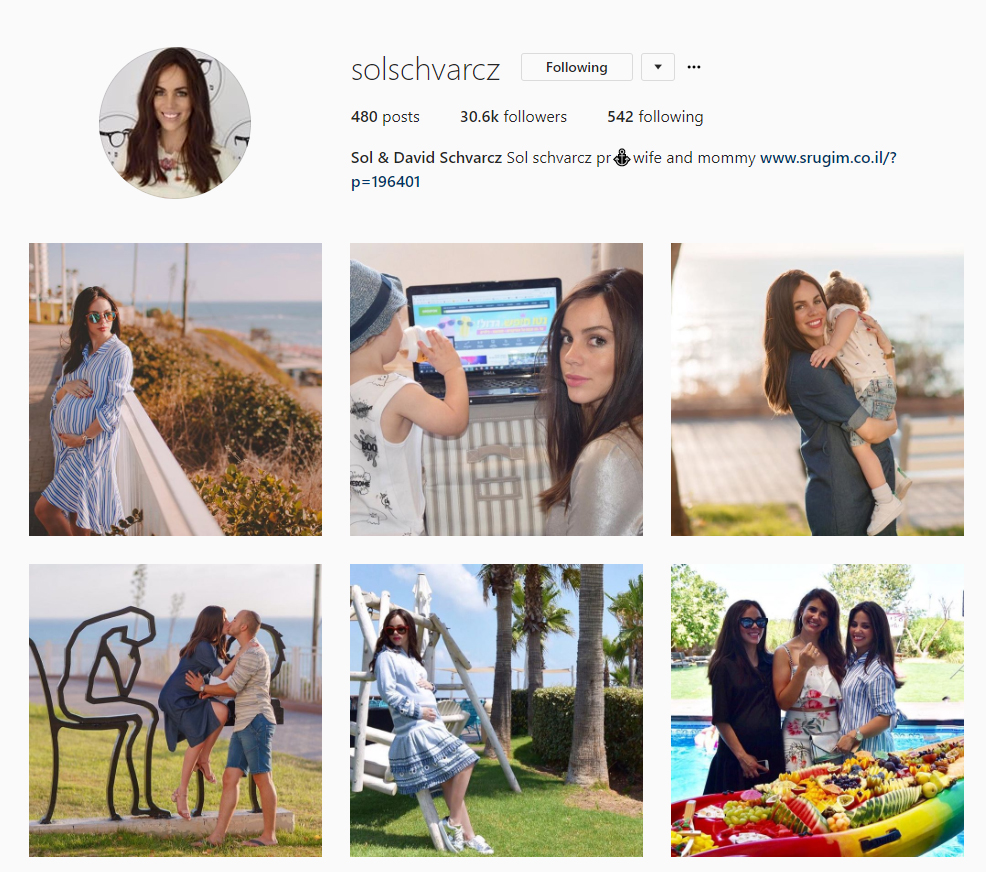 Instagram has caught on for the ultra-Orthodox public interested in fashion because magazines are forbidden and can only be viewed in private; a kosher phone, however, is available to everyone.
Sol exhibits a perfect relationship with her husband and child (another is on the way), and with her neat wig, she is an example of the glamorous life of the ultra-Orthodox world, with 30,000 followers and a film online documenting how her brand developed. According to Sol, it is very hard to increase your presence on Instagram as a woman who dresses modestly and won't reveal her body. For a woman with an audience as loyal as hers is, I am certain that she will succeed.
sewing a wig live:
httpssss://www.youtube.com/watch?v=zN7Jz4xb_pQ
This post is also available in: עברית (Hebrew)